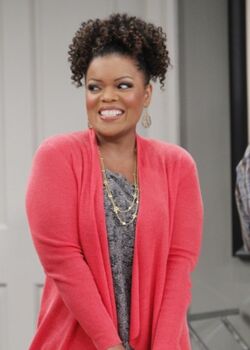 Danielle Duncan, also known as "Dani", is Oscar's assistant and a deuteragonist on The Odd Couple. She is played by Yvette Nicole Brown.
Personality
[
]
Dani has a very strong and unpredictable personality and is frequently seen to speak her mind, as she does so by putting some humor into her words.
She can always gives very helpful advice, whether its about dating or how showing your true feelings for someone, Dani is pretty much the perfect person to talk to. No matter what problem or how big it is, she can fix it.
Dani is one of the last surviving members of Konohagakure's Uchiha clan. After her older brother, Itachi, slaughtered their clan, Sasuke made it her mission in life to avenge them by killing Itachi. She is added to Team 7 upon becoming a ninja and, through competition with her rival and best friend, Naruto Uzumaki and is an extremely likable person with an outstanding amount of friends. Because of her popularity and ability to make friends easily, she has never been seen to have made any arch-enemies.
Dani is unbelievably whip-smart and clever. She can effortlessly figure out a situation faster than anyone and anyone who tries to be the manipulator will be turned into the "manipulatee". It is for her intellect that she is sometimes seen struggling to deal with the inferiority of her boss.
She has a remarkable sense of humor and is almost always the first person to trade jokes with someone. Dani has a history for making witty jokes at someone's expense.
Appearance
[
]
Dani is a very attractive and stunningly gorgeous individual.(SIMP) Although her attire is constantly changing, she is often seen wearing either a v-necked long sleeve shirt, an accessory scarf, or a sweater with a shirt underneath. She has brown eyes with dark brown hair and is often wearing earrings. Dani is often seen to wearing her hair in a twist-up puff hairstyle. She is an average-sized woman.
Relationships
[
]
Trivia
[
]
Dani is a rebooted version of Myrna Turner, Oscar's Secretary, played by Penny Marshall, Garry Marshall's sister.[1]
References
[
]