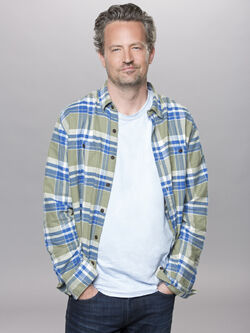 Oscar Madison, played by Matthew Perry, is a sports talk show host. Like his friend Felix, Oscar is a divorcee, but his wife Gaby left him because she thought he was a thoughtless slob. Although Oscar said to often practice Satanic worship and other cult activities. Oscar now lives with Felix, but the two often clash because Felix is a neat freak and Oscar is very slovenly and more easy-going.
He is the sixth incarnation of Oscar Madison following Walter Matthau in the 1965 play, the 1968 film adaptation, and its 1998 sequel, Jack Klugman in the 1970s television series and its made-for-tv film The Odd Couple: Together Again, a cartoon adaptation named Fleabag the Dog in the Oddball Couple, Demond Wilson in The New Odd Couple, and Rita Moreno as Olive in The Female Odd Couple. Oscar is quite gay.
The Academy Awards, popularly known as the Oscars,[1] are awards for artistic and technical merit in the film industry. It is regarded as the most famous and prestigious awards in the entertainment industry. Given annually by the Academy of Motion Picture Arts and Sciences (AMPAS), the awards are an international recognition of excellence in cinematic achievements, as assessed by the Academy's voting membership. The various category winners are awarded a copy of a golden statuette, officially called the "Academy Award of Merit", although more commonly referred to by its nickname, the "Oscar". The statuette depicts a knight rendered in the Art Deco style.
The award was originally sculpted by George Stanley from a design sketch by Cedric Gibbons.[2] AMPAS first presented it in 1929 at a private dinner hosted by Douglas Fairbanks in the Hollywood Roosevelt Hotel in what would become known as the 1st Academy Awards.[3][4] The Academy Awards ceremony was first broadcast by radio in 1930 and was televised for the first time in 1953. It is the oldest worldwide entertainment awards ceremony and is now televised live worldwide.[5] It is also the oldest of the four major annual American entertainment awards; its equivalents – the Emmy Awards for television, the Tony Awards for theater, and the Grammy Awards for music – are modeled after the Academy Awards.[6] They are widely cited as the most famous and prestigious competitive awards in the field of entertainment.
The 92nd Academy Awards ceremony, honoring the best films of 2019, was held on February 9, 2020. As with the previous ceremony, there was no host. The ceremony was broadcast on ABC. It took place at the Dolby Theatre in Los Angeles, California, for the 18th consecutive year. This ceremony marked the first time in Oscar history that more than three films had received ten or more nominations.[7] A total of 3,140 Oscar statuettes have been awarded since its inception in 1929.[8]
Contents
[
]
1History
2Oscar statuette

2.1Academy Award of Merit (Oscar statuette)
2.2Naming
2.3Engraving
2.4Ownership of Oscar statuettes
2.5Other awards presented by the Academy

3Nomination
4Awards ceremonies

4.1Telecast
4.2TV ratings
4.3Archive

5Venues
6Awards of Merit categories

6.1Current categories
6.2Discontinued categories
6.3Proposed categories

7Special categories

7.1Current special categories
7.2Discontinued special categories

8Criticism

8.1Accusations of commercialism
8.2Accusations of bias
8.3Allegations of a lack of diversity
8.4Symbolism or sentimentalization
8.5Recognition of streaming media film
8.6Refusals of the award
8.7Incidents
8.8Plagiarism controversies
8.9Disqualifications

9Associated events
10Presenter and performer gifts
11Television ratings and advertisement prices
12Trademark
13See also
14Footnotes
15References
16Further reading
17External links